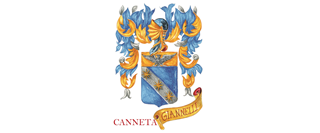 In the early 70's the family Giannelli decided to redevelop its small farm I Mori on the hills surrounding Florence, in the Chianti area, where the main crops are the vines and olive-trees.
Today the firm includes various farms and has extended its territory to 160 hectares, 55 of which are vineyards.
In 1997 the family Giannelli bought the company CANNETA in Montalcino, which produces Brunello and Rosso di Montalcino. Canneta is not far from the old fortress of Montalcino: 10 hectares of vineyards are surrounded by a thick wood.
Subsequently Canneta expanded its agricultural industry also in Maremma: a region naturally destined to the vine-growing, starting with the production of the D.O.C. Montecucco and Maremma.
In the year 2015 all wineries converged in the Società Agricola CANNETA Srl allowing us to offer a big range of Tuscan Wines. The family Giannelli still takes care of the production respecting the environment and the tradition and ensuring the authenticity of its products.
Via Maremmana, 22-24
50055 Ginestra Fiorentina – Lastra a Signa (Fi)