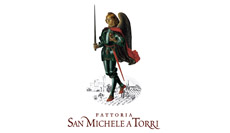 Fattoria San Michele a Torri is located in the heart of Chianti, around 15 km from Florence. It takes its name from the village in which it stands, on a beautiful hill at the gates of Florence, from which you can admire the wonderful Tuscan landscape full of vineyards, olive groves and woods. It covers 600 hectares of lands (1482,63 acres), 65 hectares (160 acres) of vineyard, 65 hectares (160 acres) of olive three groves, 40 hectares (100 acres) of cereals and legumes cultivations, an area dedicated to our Cinta Senese breed pork (they live free range within the property) and woodland.
Paolo Nocentini, the current owner of the company, has given new impetus and development to the traditional agricultural activity, expanding and renewing the cultivations and directing it to the biological production of typical Tuscan products.
The estate is located between two important regions of wine production: Chianti Colli Fiorentini (50 hectares – 123 acres of vineyard) and Chianti Classico (15 hectares – 37 acres of vineyard). The wine production is excellent here, and we obtain very perfumed, velvety and strong character wines.
Via di San Michele, 36
50018 Scandicci, Firenze