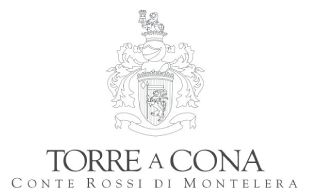 In the heart of Chianti, just 10 kilometres from Florence, stands one of the most beautiful and sumptuous 18th century villas in central Italy: Torre a Cona. Both the villa and typical farmhouses are surrounded by breath-taking scenery of vineyards and olive groves. The first documents date back to 1066 AD when it was originally known as Quona Castle. Leveled to the ground, with the exception of the great tower, it was rebuilt between the 12th century and mid 18th century by the Marquis Rinuccini. During World War II the estate served first as headquarters for the German forces and later for the British.
Various works of art from the Medici Chapels and the Duomo of Florence were protected here which thankfully prevented Torre a Cona from being bombed.
The present owners, the Rossi di Montelera family, have their roots in Piedmont where they founded the Martini & Rossi vermouth business in 1879.
Count Napoleone Rossi di Montelera bought the estate after the First World War.
Today, his grandchildren Ludovica, Leonardo and Niccolò are actively engaged in developing the wine, agriculture and hospitality business.
The Torre a Cona estate covers an area of 700 acres of which 50 are dedicated to vines, while the rest is covered with olive groves and forest.
The estate is located at an altitude of some 350 meters above sea level and the vineyards are planted with different climatic exposures.
The soil is predominantly limestone. The vineyards are cordon trained and spur-pruned ageing between 10 and 20 years. All growing operations are carried out by hand under the supervision of the winemaker Beppe Caviola that supervises all phases from vinification to aging.
San Donato in Collina
50067 Rignano sull'Arno (FI)